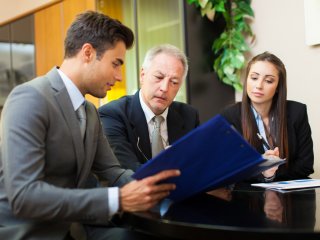 Description
Objectives
Outline
Materials
Certification
System Requirements
Watch a Demo
Our Legal Analysis and Writing course provides you with an in-depth look into legal principles and effective methods for legal writing. This course will help you learn how to analyze statutes, identify core issues and key facts, and how to apply case law to various situations. A comprehensive look into the fundamentals of legal writing, such as how to structure sentences, how to dissect court briefings, and how to properly address official correspondence is also provided.
Prerequisite(s): None
After completing this course, you should be able to:
Recall the basic anatomy of a statute and how to read a case
Recognize how to uncover key facts and identify legal issues
Define counter-analysis and how to properly state legal issues
Recall the fundamentals of effective legal writing
Identify proper etiquette and techniques for drafting office legal memoranda and correspondence
Legal Analysis and Writing Module 1
Introduction to Legal Principles and Legal Analysis
Sources of Law
Hierarchy of the Law
Authority
Ethics – Internet Research
Legal Analysis Process
Preliminary Research
IRAC Analysis
Ethics – Intellectual Honesty 
Legal Analysis and Writing Module 2
Statutory Analysis and Case Law
Anatomy of a Statute
Scope and Definition
Substantive Provisions
Statutory Analysis: The Process
Court Opinions: Importance and Sources
Court Opinions: Briefing
How to Read a Case
Legal Analysis and Writing Module 3
Key Facts and Issue Identification    
Irrelevant Facts
Background Facts
Key Facts: Definition and Types
Key Facts: Identification: Client's Case
Determine the Key Facts
Assemble the Issue
Issue Identification: Case Law
Legal Analysis and Writing Module 4
Case Law Application: Stating the Issue
Shorthand/Broad Statement of Issue
Comprehensive/Narrow Statement of Issue
Law Component
Question Component
Ethics: Objectively Stating the Issue
On Point: Importance
Determining Whether a Case is on Point
Legal Analysis and Writing Module 5
Counteranalysis and Effective Legal Writing
Counteranalysis: Why, When and Where?
Counteranalysis Techniques
Importance of Writing Skills
Goal of Legal Writing
Legal Writing Process
Prewriting
Postwriting
Legal Analysis and Writing Module 6
Fundamentals of Writing
Sentences
Paragraphs
Word Selection and Usage
Grammar
Punctuation
Prewriting Stage
Sections of the Office Memorandum
Heading
Statement of Assignment
Legal Analysis and Writing Module 7
Office Legal Memorandum and Court Briefs
Analysis Format
Application of Rule of Law to Client's Case
Counteranalysis
Similarities: Court Briefs and Office Memoranda
Trial Court Briefs
Appellate Court Briefs
Legal Analysis and Writing Module 8
Correspondence
Letterhead
Closing
Signatures and Title
Format Style
Types of Correspondence
Information Letter
Opinion Letter
Demand/Advocacy Letter
**Outlines are subject to change, as courses and materials are updated.**
Ed4Career is committed to being both environmentally conscious and making it easier for you to study! We're making your education mobile! All of our textbooks are now provided as eTextbooks. You can access them on your laptop, tablet, or mobile device and can study anytime, anywhere.
The move away from physical books to eTextbooks means you get the latest, most up-to-date version available. This also makes your training more accessible, so you can study anywhere you have your phone or tablet. The best part is that all materials are included in your training cost so there are NO extra fees for books!
Upon successful completion of our Legal Analysis and Writing course, students will be prepared, in part, to sit for the NALA (National Association of Legal Assistants) certification exam to become a Certified Paralegal (CP). MUST fulfill additional requirements per NALA to sit for the exam.
Internet Connection
Broadband or High-Speed - DSL, Cable, and Wireless Connections
*Dial-Up internet connections will result in a diminished online experience. Classroom pages may load slowly and viewing large audio and video files may not be possible.
Hardware Requirements
Processor - 2GHz Processor or Higher
Memory - 1 GB RAM Minimum Recommended
PC Software Requirements
Operating Systems - Windows 7 or higher
Microsoft Office 2013 or higher. Also, you could use a general Word Processing application to save and open Microsoft Office formats (.doc, .docx, .xls, .xlsx, .ppt, .pptx)
Internet Browsers - Google Chrome is highly recommended


Cookies MUST be enabled
Pop-ups MUST be allowed (Pop-up Blocker disabled)

The Kindle Reader App or VitalSource Bookshelf App are needed for many of our courses (No special equipment needed. This can be downloaded for FREE onto your computer.)
PowerPoint Viewer (if you do not have PowerPoint)
QuickTime, Windows Media Player &/or Real Player
MAC Software Requirements
Operating Systems - Mac OS x 10 or higher with Windows
Mac office programs or a Word Processing application to save and open Microsoft Office formats (.doc, .docx, .xls, .xlsx, .ppt, .pptx)
Internet Browsers- Google Chrome is highly recommended


Cookies MUST be enabled
Pop-ups MUST be allowed (Pop-up Blocker disabled)

The Kindle Reader App or VitalSource Bookshelf App are needed for many of our courses (No special equipment needed. This can be downloaded for FREE onto your computer.)
PowerPoint Viewer (if you do not have PowerPoint)
Adobe PDF Reader
Apple QuickTime Media Player