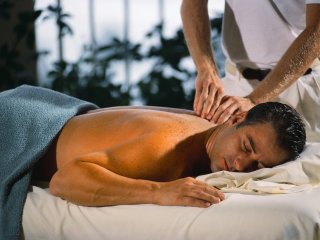 Course Type:
Instructor Led - 4 Weeks Long
Description
Objectives
Outline
Materials
System Requirements
Spas provide a wide array of services designed to improve health, beauty and relaxation through treatments such as massage, wraps and facials.  Learn what it takes to open and manage a successful spa – from business planning to marketing.  Discover the latest trends in the spa industry as well as tips on how to set your spa apart from the competition.
* You have 4 weeks to complete this course from date of your enrollment.
** Course Subject to Change.
After completing this course, you should be able to:
Recall ways to start up a spa business and find your niche

Recognize ways to market a spa business

Define basic spa techniques and how to enhance a client's experience

Identify the legal aspects of opening a medical or spiritual day spa
Start Your Own Day Spa Business Module 1
The Spa Market and Start Up Funding
In module one we will look at how more people are embracing a more natural, holistic, and fulfilling lifestyle through spa living.  Included in this module is the history of the spa, as well as, the trends in the current spa market.  We will examine where your beginning business funds and financing will come from, and the type of business that is right for you.  You can become a successful entrepreneur if you have motivation, a willingness to learn, and a positive spirit! 
Simply Spa
Researching the Spa Market
Finding Your Niche
Start Up Funding and Financing
Confessions of an Entrepreneur
Start Your Own Day Spa Business Module 2
Setting Up Your Business
A successful spa is a combination of the technical, practical, and spiritual aspects that constitute a humming business. In module two we will look at how to start your company-from choosing a name and marketing your product!  If you want your spa to succeed, you must believe in yourself and in this module, we will look at tips for beginning spa owners to get you started on the right path.
Tips for Starting a Spa
Negotiating a Lease
Spa Management
Cyber Marketing
Marketing Tips for Spa Owners
Start Your Own Day Spa Business Module 3
Spa Ambience, Healing, and Exotics
The atmosphere you create for your guest is key to having a superior spa and client satisfaction.  In module three we will explore a variety of massage techniques and how when done right, will provide an increased physical and mental health for both the receiver and the giver.  Essential oils are always included in holistic healing and we will examine the different essential oils of aromatherapy and how to use them in your spa.  We will wrap up module three with a discussion on the type of spa will suit you best for the initial phases of your business.
Spa Culture Makes a Difference
Basic Massage Techniques
Scents and Oils
Ideas from the Orient
Day or Destination Spa
Start Your Own Day Spa Business Module 4
Final Spa Decisions
Medical and Spiritual spas have been common throughout history, although they are relatively new in our modern experience. In module four, we will look at the legal aspects of opening these spas, the type of employees that should be on staff, and the licensing regulations.  There are certain expectations of the décor and etiquette within a spa and we will examine some of the basic "rules" of spa etiquette in this module.  This module will conclude with a look at current and futuristic spas and how to keep up with the trends from within this group.
Starting a Medical Spa
Starting a Spiritual Spa
Spa Etiquette
Current Spa Trends
Future and Futuristic Spa Trends
Ed4Career is committed to being both environmentally conscious and making it easier for you to study! We're making your education mobile! All of our textbooks are now provided as eTextbooks. You can access them on your laptop, tablet, or mobile device and can study anytime, anywhere.
The move away from physical books to eTextbooks means you get the latest, most up-to-date version available. This also makes your training more accessible, so you can study anywhere you have your phone or tablet. The best part is that all materials are included in your training cost so there are NO extra fees for books!
Internet Connection
Broadband or High-Speed - DSL, Cable, and Wireless Connections
*Dial-Up internet connections will result in a diminished online experience. Classroom pages may load slowly and viewing large audio and video files may not be possible.
Hardware Requirements
Processor - 2GHz Processor or Higher
Memory - 1 GB RAM Minimum Recommended
PC Software Requirements
Operating Systems - Windows 7 or higher
Microsoft Office 2013 or higher. Also, you could use a general Word Processing application to save and open Microsoft Office formats (.doc, .docx, .xls, .xlsx, .ppt, .pptx)
Internet Browsers - Google Chrome is highly recommended


Cookies MUST be enabled
Pop-ups MUST be allowed (Pop-up Blocker disabled)

The Kindle Reader App or VitalSource Bookshelf App are needed for many of our courses (No special equipment needed. This can be downloaded for FREE onto your computer.)
PowerPoint Viewer (if you do not have PowerPoint)
QuickTime, Windows Media Player &/or Real Player
MAC Software Requirements
Operating Systems - Mac OS x 10 or higher with Windows
Mac office programs or a Word Processing application to save and open Microsoft Office formats (.doc, .docx, .xls, .xlsx, .ppt, .pptx)
Internet Browsers- Google Chrome is highly recommended


Cookies MUST be enabled
Pop-ups MUST be allowed (Pop-up Blocker disabled)

The Kindle Reader App or VitalSource Bookshelf App are needed for many of our courses (No special equipment needed. This can be downloaded for FREE onto your computer.)
PowerPoint Viewer (if you do not have PowerPoint)
Adobe PDF Reader
Apple QuickTime Media Player