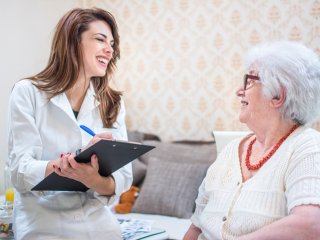 Course Type:
Instructor Led - 4 Weeks Long
Description
Objectives
Outline
Materials
System Requirements
The senior population is multiplying by the millions! In fact, during the next 25 years, the senior population in America is expected to double – growing faster than the total population in every state. This means one thing – a tremendous opportunity for aspiring and compassionate entrepreneurs. This class will instruct you in how to start a business in senior services, how to hire the right staff and even how to market your business.  Our course will take you through the steps to grow your own senior service business. 
* You have 4 weeks to complete this course from date of your enrollment.
** Course Subject to Change.
After completion of this course, you should be able to:
Recall the basics of operating a senior service business
Recognize potential services to offer and ways to establish those services
Identify the options for forming a business structure
Define the essentials of marketing; both online and locally
Start Your Own Senior Services Business Module 1
Introduction to Starting Your Own Senior Services Business
Module one will introduce you to the basics of operating a senior services business.  We will explore the daily grind of running your own business and how to develop your own business plan.  What niche market will you serve?  How will your business be different? Better? Module one will guide you to thinking through the basics of your business.
Serving Seniors
Running Your Senior Care Business
Developing Your Plan
Adult Day-Care Service
Activities, Meals, Hours of Operation and Safety
Start Your Own Senior Services Business Module 2
Establishing Business Services
What kind of home care services do you want to provide?  Have you considered what is involved with coordinating a move, preparing for the sale of a home, or how much you will charge?  Module two will discuss the services that you could potentially offer and will guide you to including the pieces that you can do and how much you can charge.  Also included in module two is transportation and travel services and what policies you should have set in place, if you do decide to offer those specialty services. 
Relocation Services
Home Care and Home Health-Care Services
Concierge Service
Transportation Service
Travel Service
Start Your Own Senior Services Business Module 3
Forming the Business Structure
Have you considered what you will name your company?  Have you looked into what licenses you will need? Module three will discuss the options you have for structuring your company and will direct you to choosing a business module and which insurances you may want to include.  Hiring employees is key to a running a successful business and in module three, we will look at the differences between having employees or independent contractors.  Also discussed in module three is the kind of office equipment essential at start up and how to maintain personnel files.
Structuring Your Business
Locating and Setting Up
Assembling Your Team
Equipping Your Business
Building Your Online Presence
Start Your Own Senior Services Business Module 4
Marketing, Finances and the Trenches
Module four will go over the essentials of marketing; both online and though networking locally.  Also included is an overview of which marketing tools you need to become familiar with and advertising basics.  Do you know where your start-up funds are coming from?  Do you understand the financial management needed to run your business?  Module four will touch on the importance of having your finances set up, as well as, what to do when you run into a pitfall. 
Essentials of E-Marketing
Marketing Offline for Success
Financial Matters
When Things Go Wrong
Tales from the Trenches
Ed4Career is committed to being both environmentally conscious and making it easier for you to study! We're making your education mobile! All of our textbooks are now provided as eTextbooks. You can access them on your laptop, tablet, or mobile device and can study anytime, anywhere.
The move away from physical books to eTextbooks means you get the latest, most up-to-date version available. This also makes your training more accessible, so you can study anywhere you have your phone or tablet. The best part is that all materials are included in your training cost so there are NO extra fees for books!
Internet Connection
Broadband or High-Speed - DSL, Cable, and Wireless Connections
*Dial-Up internet connections will result in a diminished online experience. Classroom pages may load slowly and viewing large audio and video files may not be possible.
Hardware Requirements
Processor - 2GHz Processor or Higher
Memory - 1 GB RAM Minimum Recommended
PC Software Requirements
Operating Systems - Windows 7 or higher
Microsoft Office 2013 or higher. Also, you could use a general Word Processing application to save and open Microsoft Office formats (.doc, .docx, .xls, .xlsx, .ppt, .pptx)
Internet Browsers - Google Chrome is highly recommended


Cookies MUST be enabled
Pop-ups MUST be allowed (Pop-up Blocker disabled)

The Kindle Reader App or VitalSource Bookshelf App are needed for many of our courses (No special equipment needed. This can be downloaded for FREE onto your computer.)
PowerPoint Viewer (if you do not have PowerPoint)
QuickTime, Windows Media Player &/or Real Player
MAC Software Requirements
Operating Systems - Mac OS x 10 or higher with Windows
Mac office programs or a Word Processing application to save and open Microsoft Office formats (.doc, .docx, .xls, .xlsx, .ppt, .pptx)
Internet Browsers- Google Chrome is highly recommended


Cookies MUST be enabled
Pop-ups MUST be allowed (Pop-up Blocker disabled)

The Kindle Reader App or VitalSource Bookshelf App are needed for many of our courses (No special equipment needed. This can be downloaded for FREE onto your computer.)
PowerPoint Viewer (if you do not have PowerPoint)
Adobe PDF Reader
Apple QuickTime Media Player